Introduction
This intermediate spectrometer goniometer is used for spectral and angle measurements to verify optical reflection, refraction, diffraction, interference and polarization principles.
Experimental examples are:
1. Measure prism angle based on reflection
2. Measure min-deviation angle of prism based on refraction
3. Calculate refractive index and dispersion of material
4. Measure wavelength of light or grating constant based on diffraction and interference
Using an optional Hydrogen lamp, atomic spectral lines of Hydrogen, such as the Balmer series, can be measured and the Rydberg constant can be calculated (LEOK-70 is an optical rail version of this kind of apparatus).
Using a set of optional polarizer, analyzer and quarter-wave plate, a variety of optical polarization experiments can be conducted, such as polarization by reflection and measurement of Brewster's angle, verification of Malus's law, generation of circularly and elliptically polarized light, and demonstration of ellipsometry.
Specifications
Description
Specifications
Angle measurement accuracy
1'
Optical parameters
Focal length of objectives (collimation & telescope): 170 mm
Effective aperture: dia 22 mm
Field of view: 3°22′
Focal length of eyepiece: 24.3 mm
Max. distance between collimator & telescope
120 mm
Slit width
0.02 - 2 mm adjustable
Eyepiece compensation range
± 5 diopters
Stage
Diameter: 70 mm
Rotating range: 360º
Vertical adjustment: 20 mm
Scale disk
Diameter: 178 mm
Graduation: 0 - 360º
Division: 0.5º
Vernier reading: 1' (two symmetrical verniers)
Prism
60º ± 5', ZF1 (nD=1.6475, nF-nC=0.09192)
AC adapter
output 6.0 VDC
Holographic grating
300 l/mm
Part List
| | |
| --- | --- |
| Description | Qty |
| Host spectrometer | 1 |
| Prism | 1 |
| Optical parallel plate | 1 |
| Handheld magnifier w/illumination | 1 |
| Holographic grating | 1 |
| AC adapter | 1 |
| User's manual | 1 |
| Polarizer, analyzer and quarter wave plate (for polarization experiments) | 1 set (optional) |
| Hydrogen-Deuterium lamp (for atomic spectrum experiment) | 1 set (optional) |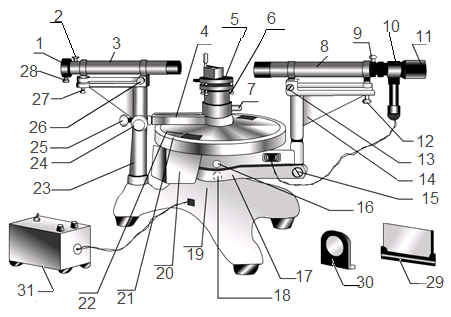 1-Slit
2-Lock screw
3-Collimator
4-Brake frame
5-Loading stage
6-Leveling screw (3)
7-Lock screw
8-Telescope,
9-Lock screw
10-Auto-collimation eyepiece
11-Adj. knob
12-Pitch screw
13-Yaw screw
14-Support
15-Fine adj. screw
16-Lock screw
17-Brake frame
18-Lock screw
19-Stand
20-Rotation frame
21-Division ring
22-Vernier disk
23-Post
24-Fine adj. screw
25-Lock screw
26-Yaw screw
27-Pitch screw
28-Slit width adj. screw
29-Grating
30-Flat mirror
31-Transformer